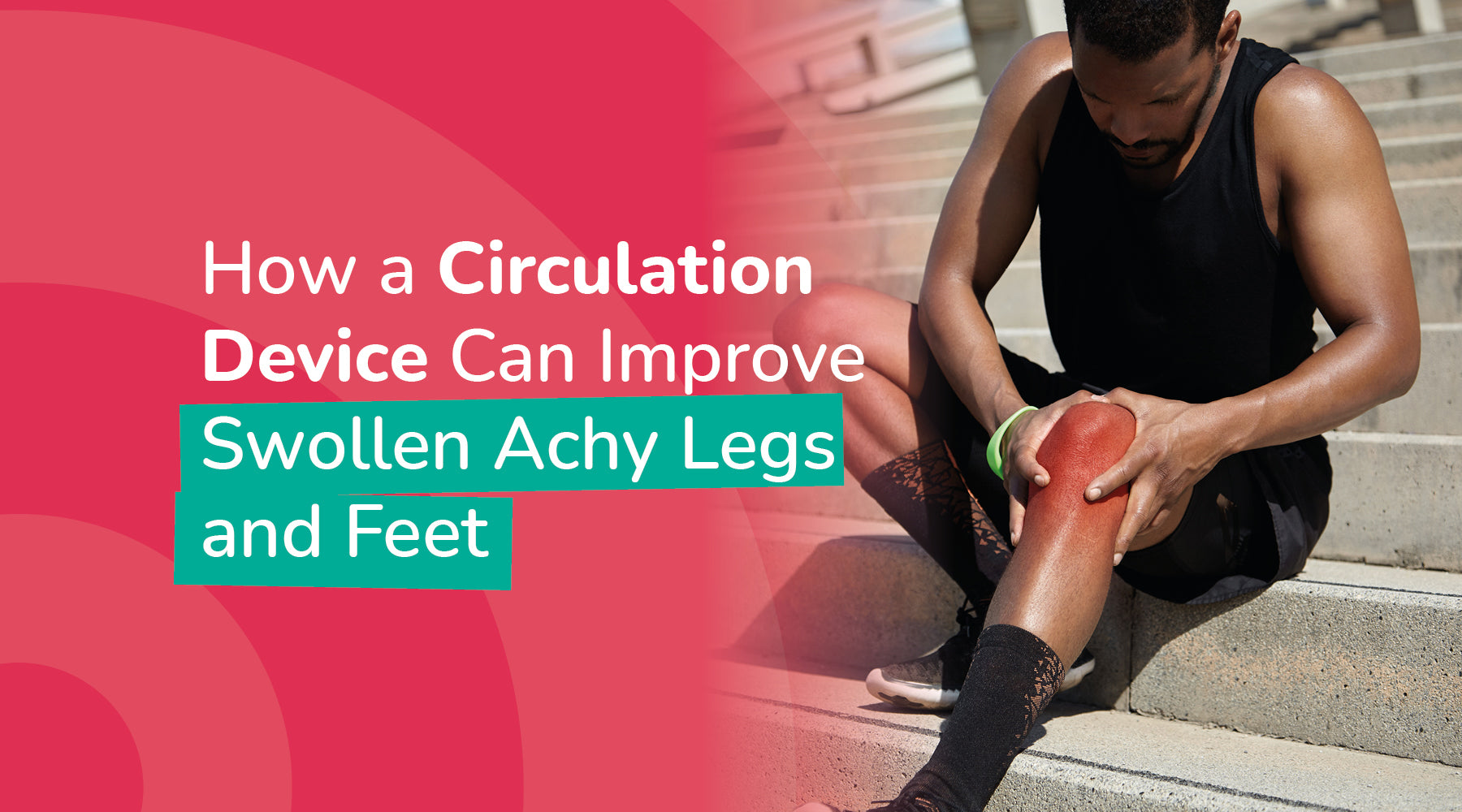 How a Circulation Device Can Improve Swollen Achy Legs and Feet
Using a machine that helps to boost leg and foot circulation can help relieve discomfort, stop pain and help with arthritis of the knee. TENs circulation machines can be used daily for a short period of time to help you alleviate pain faster, acting as a leg pain treatment.
 TENs machine therapy works by delivering a mild electrical current to nerves in an affected area and into the spinal cord. Using a TENs leg machine should be painless, though the user may feel a natural slight tingling sensation.
How Does a Foot Circulation Machine Work?
When you use a foot circulation machine, the footpads will administer electrical pulses to the feet and lower legs to further stimulate blood circulation. In some cases, the TENS machine may cause some muscles to contract automatically. This contraction helps the muscles to relax, reducing pain and discomfort in the affected area. 
The Paingone Fllow Expert is a machine that acts as a circulation booster for the legs and will improve day-to-day living standards by alleviating pain and tiredness. Once you have selected your desired intensity, it's time to sit or lie back and relax! Let Fllow deliver its customised program of 25 Opti-Fllow waveforms. 
Using a broad variety of pulse types, patterns and speeds keeps the stimulation feeling fresh and invigorating.
Everyday Exercises to Improve Foot and Leg Circulation
Most people could benefit from improving their poor circulation. Improving circulation can be done in several ways, the most common are: walking more regularly, performing low-impact daily exercises or using a TENS machine. 
Below you'll find three simple exercises that anyone can do to improve their leg and foot circulation.
Exercise One: Calf Stretch
 Sit on a chair with both feet firmly on the floor. Stretch one leg out in front of you and lift your toes towards you. Bend at the ankle and hold this stretch for 3 seconds. Repeat for the other leg and continue to do this a further 10 times.
Exercise Two: Ankle Rotations 
 Once again sit on a chair with both of your feet on the floor. Lift one foot approximately 1 inch off the ground and rotate your ankle 10 times clockwise then 10 times anticlockwise. Repeat the same actions for your other foot.
Performing this exercise should improve the overall mobility of your ankle and improve blood flow to the feet.
Exercise Three: Heel & Toe Raises
 While sitting on a chair, place both feet on the floor and raise your heels while your toes are still touching the ground. Hold each leg for 3 seconds and then repeat the actions 10 times.
Bonus Exercise: Leg Stands
 If you're able, hold on to a stable chair for balance. Lift one foot off the ground, hold the position for 10 seconds and then repeat with the other leg. Repeat this a further 5 times on each leg. 
 Some people may not be able to do this more advanced exercise and that is totally fine - we recommend exercising with caution when attempting to do leg stands.
 Though these exercises are a great start, you should consider a daily treatment to continue improving your circulation.  Tower Health has a range of poor circulation treatments and therapies to help you get back to your best.
Circulation Machines for Legs: What are the Benefits?
 The advancement of TENS machines means we can target specific areas of the body to improve their circulation and relieve discomfort in those areas. 
 Some of the benefits to using a leg circulation machine are: 
Relieves pain and discomfort
Improve blood flow in the feet and lower legs
Relieves pain associated with arthritis of the knee
 Leg circulation machines should not be used by people who are pregnant, however, they can be used by diabetics. Though most poor circulation machines are registered medical devices, you should always consult your doctor or healthcare provider for medical advice before starting a new TENs treatment.
Why use the Paingone Fllow Expert 
 The Fllow Expert has 150 different intensity levels to ensure your body doesn't get used to the TENs treatment. Additionally, the Paingone Fllow machine has a customised program of 25 Opti-Fllow waveforms. Using this broad variety of pulse types, patterns and speeds keeps the stimulation feeling fresh and invigorating.
 Some of the benefits experienced by our customers include:
 Reduced discomfort in lower legs and feet 
 Boosted blood flow
 Less pain in targeted areas such as legs, feet and knees
 Arthritic knee and joint pain relief
As seen on TJC
Paingone Fllow has been featured on The Jewellery Channel (TJC) for its popularity and success in helping people to improve their poor circulation. The Jewellery Channel is both on TV and online and is known for featuring home and lifestyle products. 
The Paingone Fllow Expert has helped a great amount of people since first being introduced as shown from its glowing reviews. This medical device uses painless TENS technology to improve blood flow through the feet and legs by sending electronic pulses through the legs to reduce pain, discomfort and the 'heavy' feeling associated with arthritic pain. 
Here at Tower Health, we have experienced Health Care Advisors. Contact us today on 0800 953 1666 and ask about how we can help you. Our lines are open Monday till Friday, from 8.45 am till 5.30 pm. 
We also carry a range of other TENs devices for circulation for different areas of the body. In addition to any circulation machine you order, you can also benefit from a 60-day money-back guarantee to give you peace of mind when shopping with Tower Health.